Networking Hardware
Published on February 12th, 2013 | by Alexis Argent
0
Xirrus Takes the Complexity Out of High-Performance Wi-Fi with a New Class of Low-Cost, Cloud-Provisioned and Managed Access Point
Xirrus have announced major additions to its comprehensive portfolio of wireless solutions. The Xirrus XR-520 Access Point represents a new class of Wi-Fi Solution that delivers the advanced services of the Xirrus XR Array series in a low cost, 2 radio AP option for smaller office spaces, class rooms, hotel guest rooms, hospital patient rooms, and more. Xirrus also announced a new release of the Xirrus Management System (XMS) that introduces XMS Cloud, a Software-as-a-Service (SaaS) deployment option for XMS that delivers the full feature set of the existing on-premise offering without the need to maintain on-site equipment. Xirrus also is introducing Xirrus Activation Server, a service that enables zero-touch provisioning and deployment of a Xirrus wireless network.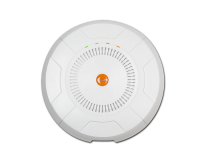 Wi-Fi is very important to Washington Public Schools," said Todd Moats, Network Administrator. "Xirrus has the broadest set of solutions we have seen in the industry, and the XR-520 provides the flexibility to meet all our needs. The XR-520 is an extremely cost-effective solution for providing Wi-Fi access in portable classrooms, and the built-in Application Control ensures that we can keep our students focused on the task at hand, instead of wasting network time on non-learning-associated material."

"Enterprise wireless continues to see rapid growth while evolving rapidly – it is becoming harder to look out and project how network requirements will change given the surge of new mobile applications, devices and users," said Rohit Mehra, vice president of network infrastructure, IDC. "Xirrus' broadening of its wireless AP portfolio, addition of a cloud management platform, as well as application visibility and control capabilities will provide customers a range of compelling solutions that address emerging requirements with scalability."
The XR-520 delivers industry-leading price/performance indoor solution. The new AP, along with the entire Xirrus XR product line, are the industry's only solutions to feature Application Control, a comprehensive application recognition and policy control engine that operates directly in each XR device. Application Control enables firewall, QoS, and rate-limiting policies to be enforced at an application level directly at the network edge, helping IT administrators manage the exploding wireless usage in today's BYOD environments to ensure that applications respond predictably when the network is under heavy load.
The Xirrus XR Ramge is well established and designed to fit a wide range of needs. Products include the Xirrus XR-1220, the Xirrus XR-1230H,  the Xirrus XR-2420, the Xirrus XR-4420 and the Xirrus XR-6830.
The XR-520 is the only software-programmable AP in its class with a radio that can run in either the 5GHz or 2.4GHz bands. This enables the AP to adapt to all 5GHz operation as the industry transitions from 2.4GHz-centric to 5GHz devices. This contrasts to traditional 2-radio APs that are fixed with one radio in each band with no provision to add more 5GHz support without adding more equipment.
The XR-520 features an integrated wireless controller, eliminating the reliance on centralized controllers that can create single-points-of-failure and performance bottlenecks in the network. With a dual-core Cavium network processor, the XR-520 delivers a powerful wireless services platform that does not compromise functionality compared to higher end APs. In addition to Application Control, the XR-520 supports a full suite of integrated services including wireless IDS/IPS, stateful firewall, spectrum analysis, guest access, and Bonjour Director for Apple iOS device optimization.
Xirrus solutions do away with rip-and-replace, allowing ease-of-use deployments that scale with corporate growth, while providing flexible management options and advanced features such as Application Control at the network edge," said Marty Tynan, Director of Sales & Business Development at DoubleRadius, Inc. "In short, Xirrus provides an all-in-one solution in a low-cost device that meets our customers' needs while helping us maximize profits."
The new XMS 6.4 release provides a cloud-based option for managing a Xirrus wireless network, in addition to existing on-premise deployment versions. The hosted cloud solution delivers all the functionality of the on-premise XMS solutions in an easy-to-use, quick-to-deploy option. Upon installation, Xirrus Arrays or the new XR-520 AP automatically connect to the new online Xirrus Activation Server to obtain their license. IT administrators then connect to their XMS to begin managing their network, whether deployed as an on-premise system or via an online portal to their XMS Cloud instance – all in a matter of minutes. The cloud delivery option enables enterprises to reduce upfront installation costs and move a portion of their wireless operations to an operating expenditure model. The XMS 6.4 release also provides enhanced management for Xirrus Application Control with global policy control and aggregated application usage reports.
When it comes to deploying a wireless network that simply just works and delivers a consistently good user experience – there are certain components where you just cannot compromise," said Shane Buckley, Xirrus CEO. "A flexible and extensible range of solutions is required to meet all of the wireless enterprise's needs. With the introduction of the XR-520 and Cloud Management, Xirrus extends its wireless solutions to meet the needs of a wide range of deployments, including those that are more cost-sensitive, but without compromising the functionality and performance typically seen in other, low-cost offerings."
Share this item with your friends or work colleagues.  If you want to stay up to date with our latest products, industry news and offers you can sign up to our monthly newsletters, keep up to date with us on Facebook or follow us on twitter @4Gon