Announcements
Published on June 19th, 2013 | by Alexis Argent
0
Xirrus Extends World's Most Flexible Line of 802.11ac Wireless Solutions
Xirrus has announced a fully software-programmable 802.11ac solution for its Wireless Arrays and radio modules. The solution brings unparalleled flexibility and future-proofing for customers migrating their wireless infrastructure over time to accommodate the ever-changing base of Wi-Fi clients and the roll out of new 802.11ac Wave 1 and Wave 2 technologies. With this announcement, Xirrus remains in a leading position to address the requirements of enterprises for high-performance Wi-Fi solutions, seamless upgradability, and investment protection.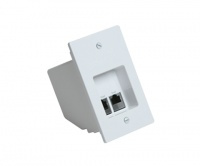 The Xirrus 802.11ac solution consists of modular Arrays together with 802.11ac Wave 1 radio modules that can be added to the Arrays when the modules become available later in the year. Key benefits of the modular Xirrus 802.11ac solution include:
All Xirrus XR Arrays, which began shipping in 2011, are 802.11ac-compatible, meaning that existing and new XR customers can benefit from faster 802.11ac speeds.
The new 802.11ac radio modules do not require an upgraded controller or Array housing, meaning that no forklift equipment upgrade is required.
All XR radios are software-programmable, making a Xirrus solution the only industry solution capable of operating as a 100-percent 802.11ac network. Traditional fixed-band APs are effectively only half of an 802.11ac AP because 802.11ac is a 5GHz-only technology.
Xirrus XR Array solutions ensure seamless coexistence of legacy and new Wi-Fi client types by supporting all 802.11a/b/g/n/ac technologies on each radio.
Xirrus XR Arrays are available in 2, 4, 8 or 16-radio configurations and can be deployed indoors or outdoors to fit a broad range of use cases and vertical market requirements.
802.11ac is the next frontier in high-capacity Wi-Fi, and is expected to provide the foundation for continued scalability of enterprise wireless networks," said Rohit Mehra, vice president of network infrastructure, IDC. "Its bandwidth performance – roughly three times that of 802.11n – will be critical to enterprises needing to scale to support 5GHz mobile devices. At the same time, enterprises can't abandon 2.4GHz, which a vast majority of popular mobile devices use today. Xirrus's 802.11ac solution, and its ability to support devices in both bands meets a key requirement for enterprise IT, serving their needs regardless of where they are in the 5GHz adoption curve."
Enables Smooth Transition to 5GHz
With the changing Wi-Fi client base migrating to 5GHz, the fixed frequency band support of existing traditional wireless infrastructure has provided network planners with few practical options. Traditional APs are fixed with one radio in the 2.4GHz band and one in 5GHz. With 802.11ac performance improvements focused on 5GHz, this approach proves very limiting. Xirrus Arrays address this by allowing all radios to operate in either the 2.4GHz or 5GHz bands, depending on the needs of the deployment.
As a result, enterprises can make a staged migration to 5GHz and 802.11ac with no penalties for accommodating older 802.11 protocols or the 2.4GHz band in the shorter term. For example, an IT department that must continue to support a set of legacy 802.11bg scanners can isolate this traffic to select radios operating in 2.4GHz and 802.11bg, while at the same time running the remaining radio resources at the higher-performance 5GHz and 802.11n/ac speeds.
Given the burgeoning demand for wireless bandwidth, 802.11ac is becoming a consideration on a majority of new wireless projects we are involved with," said Shane Buckley, Xirrus CEO. "Frankly, many networking personnel shudder at the prospect, fearing that a rip-and-replace is their only option. But the architecture of Xirrus Arrays virtually eliminates issues. All Xirrus Wireless Arrays are backwards-compatible to 802.11a/b/g/n, and all existing Xirrus XR Arrays are forward-compatible with 802.11ac and beyond."
Share this item with your friends or work colleagues.  If you want to stay up to date with our latest products, industry news and offers you can sign up to our monthly newsletters, keep up to date with us on Facebook or follow us on twitter @4Gon