Announcements
Published on May 15th, 2013 | by Alexis Argent
0
Xirrus Delivers on the Promise of Enterprise Mobility with New Products that Unite the Wired and Wireless Network
Xirrus has announced its Unified Access portfolio – a powerful suite of cloud services, Wi-Fi access solutions, Ethernet switches, management tools, and application programming interfaces that enable organizations to bring together disparate wired and wireless network components into a unified network.
The new Xirrus XT series of Gigabit Ethernet switches deliver flexible wired access options to supplement Xirrus' existing wireless indoor solutions. Xirrus Mobilize, a cloud service, automatically provisions all Xirrus wireless and wired access elements on the network. Xirrus Unified Access solutions ultimately deliver a seamless experience as users migrate from desktop to mobile-computing platforms.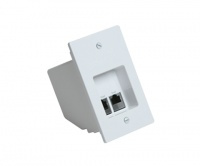 XT-5024 and XT-5048 – These 24-port and 48-port managed Gigabit Ethernet switches deliver advanced Layer 2+ switching functionality and full performance for wired access. Both switches feature PoE+ for powering Xirrus APs or other devices, plus 4 SFP+ uplinks for stacking or high-bandwidth 1GigE or 10GigE uplink connectivity to data centers or distribution closets.
XT-5003 – This unique 3-port in-wall Gigabit Ethernet switch provides convenient and discrete wired port replication for delivery of in-room IP services. Customers can easily leverage existing cable infrastructure to deliver wired and wireless services.
The new XT switch line works together with Xirrus' XR wireless portfolio to provide a comprehensive access solution for a myriad of applications. The XT-5003 derives power for itself from the XT-5024/XT-5048 in the IDF as well as supplying power for local devices such as wireless APs, VoIP phones, surveillance cameras, or any other PoE device. Advanced power pooling functionality provides flexible allocation of power across all ports on the XT-5024/48 switches for easy deployment independent of physical port. In addition, the new switching line scales easily through virtual stacking to increase capacity as demand grows.
Xirrus' unified solution addresses some of the challenges we are faced with at our university," said Shawn Kung, director of information technology at the University of Mary Hardin Baylor in Belton, Texas. "We have a number of buildings where it is difficult to run additional cables. Xirrus' new switches provide us a lot of flexibility to utilize the infrastructure we have and deploy a complete end-to-end wired and wireless solution in the dorms and across campus without major upgrades to infrastructure. XMS makes it easy to manage both the wired and wireless access network from a single console, which is a strong plus."
The XT-5003 represents a significant innovation in high-speed Internet access and creates new options for guest access in the hospitality industry," said Al Rehmtulla, director of IT for Purepages, a Xirrus MSP partner. "Customers in hospitality and across industry need to rely on their existing network infrastructure – even as they upgrade to offer guests fast access and premium services – without the additional capital expenses of new wiring."
Xirrus Unified Access breaks new ground in the integration of wired and wireless connectivity:
Wired-like performance across the network. Xirrus Unified Access includes the Xirrus XR wireless portfolio – the only solution in the industry able to deliver the performance of a wired network across a heterogeneous wired-wireless network by eliminating the wireless chokepoints that hamper other offerings.
Unified management. The Xirrus Management System (XMS) offers "single pane of glass" management for all access components in the network – including wired switches, wireless APs, and wireless Arrays – to greatly simplify the job of the IT manager. The XMS provides in-depth visibility and configuration and is available in both on-premise and cloud-based options.
Automatic activation and zero-touch provisioning. Xirrus Mobilize enables all wired switches, wireless APs, and wireless Arrays on the access network to be activated and provisioned automatically, without IT involvement. This free service is available with all Xirrus access solutions and provides automatic discovery, licensing, software updates, and initial configuration of a Xirrus network for fast and simple turn-up.
Common policy enforcement. Xirrus Unified Access enables common policy management across a Xirrus access network via the XMS or other policy management systems. Integration with third-party systems ensures interoperability of the Xirrus network with existing network infrastructure.
Application integration. Extensible RESTful JSON application programming interfaces (API's) in Xirrus XMS simplify the integration of the access network with services such as data analytics, location services, and network access control.
A key challenge in networking today is making network access seamless across wired and wireless technologies," said Rohit Mehra, VP of network infrastructure at IDC. "While PC's still remain the single most important device to access enterprise applications, mobile device adoption is accelerating at a much faster pace, driving IT towards taking a unified view of securing and managing wired and wireless networks. By unifying the access layer in its own solution set, Xirrus has taken a significant step towards bridging that gap for its customers."
Availability
XMS is available today. Xirrus Mobilize and the XT switch series will be available in June.
Share this item with your friends or work colleagues.  If you want to stay up to date with our latest products, industry news and offers you can sign up to our monthly newsletters, keep up to date with us on Facebook or follow us on twitter @4Gon