Manufacturer News
Published on June 26th, 2017 | by Karley O'Brien
0
Ubiquiti Networks Unveil UFiber GPON Device
Ubiquiti Networks, a provider of fiber solutions utilising Gigabit Passive Optical Network (GPON) technology, have proudly introduced the Ubiquiti UFiber UF-Nano G. Although this is the first GPON device from Ubiquiti, it appears to be a robust, high performance GPON CPE, which features an informational LED display, and keeps the typical sleek, sophisticated industrial design that Ubiquiti have for all their products.
Sleek Design
The Nano G discreetly fits into any environment, and its compact form factor is suitable for wall-mounting.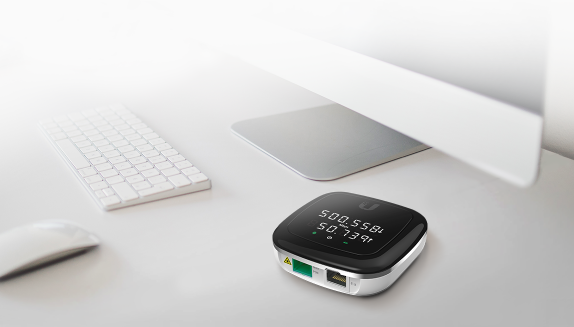 Status Display
The easy-to-read display provides status information: IP address, signal strength, and current throughput.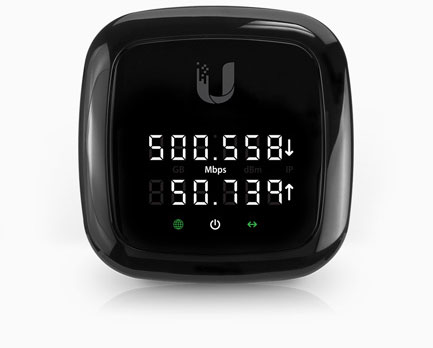 Power over Ethernet
The Nano G is powered by 24V passive PoE – a single cable to carry both power and data.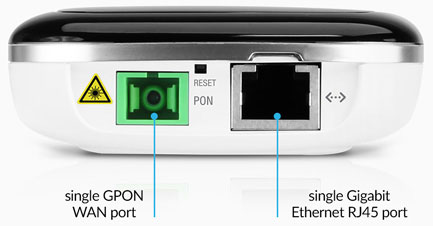 Designed for Integration
Up to 128 Nano G devices can be connected to a single GPON port. Supporting GPON links of up to 20 km, the Nano G integrates with the UFiber OLT (coming soon) and third-party OLT devices.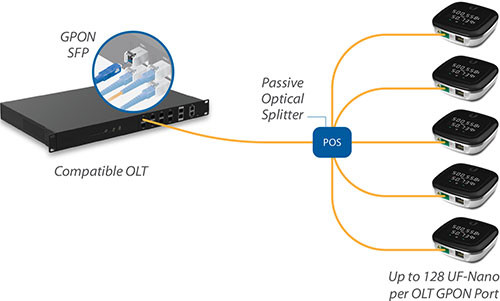 Key Features:
WAN: (1) GPON Port
LAN: (1) Gigabit Ethernet Port
GPON Speeds: 2.488 Gbps Downstream (RX), 1.244 Gbps Upstream (TX)
Wavelengths: 1490 nm Downstream (RX), 1310 nm Upstream (TX)
Display: Digital LED for Status Reporting
Max. Power Consumption: 7W
Power Method: 24V Passive PoE
Mounting: Wall-Mountable (Indoor)
Model: UF-Nano
Robust ONU CPE
Compatible with 3rd-Party OLTs
Gigabit PoE Power
The new UFiber UF-Nano G holds great potential, and whilst Ubiquiti's UFiber range is still a relatively recent addition to their subdivisions, it is evident that they are fast expanding to cater for all customer demands on the current market.
Share this story with your friends or work colleagues. If you want to stay up to date with our latest products, industry news and offers you can sign up to our monthly newsletters, keep up to date with us on Facebook or follow us on twitter @4Gon.