Announcements
Published on October 16th, 2012 | by Alexis Argent
0
Ubiquiti EdgeMAX Router – Powered by the feature rich EdgeOS
Ubiquiti EdgeMAX EdgeRouter Lite 3-Port Router, Powered by the feature rich EdgeOS featuring a next-generation graphical user interface.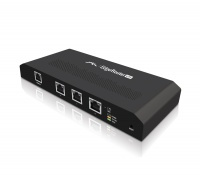 Ubiquiti Networks have announced a new range of products, the Ubiquiti EdgeMAX router series. The Advanced 3-Port Router Ubiquiti EdgeMAX EdgeRouter Lite 3-Port Router is the first router to be showcased by Ubiquiti. Ubiquiti have marketed the product in spectacular fashion with a Hollywood style promotion video. 
Ubiquiti EdgeMAX Features
Sophisticated Routing Features
Advanced Security, Monitoring, and Management
High-Performance Gigabit Ports
Direct Traffic Flow
Interfaces Each Gigabit port functions as an independent interface.  You can also configure Virtual Local  Area Network (VLAN) interfaces to meet your network segmentation requirements.
Routing Configure static routes and dynamic routing protocols to effectively manage the routes used by the EdgeRouter.
Secure Your Network
Firewall Policies Organize the rules you apply in the order you specify. Firewall Groups Apply the policies to groups filtered by IP address, network address, or port number. NAT Rules The EdgeRouter Lite changes packet addressing based on your customized source and  destination NAT rules.
Manage Your Network

DHCP Server Set up multiple DHCP servers to assign IP ranges in different subnets on the different interfaces. Easily control dynamic and static IP addressing for your network devices. Monitoring Tools Conveniently track network activity and devices from tools such as Ping, Trace, Discover, Packet Capture, and Log Monitor. User Accounts Manage access to the EdgeRouter Lite using unique administrator and operator accounts.
Powerful Features
EdgeOS™ is a sophisticated operating system loaded with robust features,  including:
Static routes and support of routing protocols: OSPF, RIP, and BGP
Firewall policies and NAT rules
DHCP services
Quality of Service (QoS)
Network administration and monitoring tools
Comprehensive IPv6 support
Choice of configuration methods: 
the graphical user interface to 
visualize the workings of your 
network or the Command Line 
Interface (CLI) to use advanced, 
command‑driven configuration
You can comment here,  or via  our Facebook page or YouTube Channel.
http://www.facebook.com/pages/4Gon-Solutions/199177306812822
http://www.youtube.com/watch?v=fS0QtRfolKs