Announcements
Published on December 14th, 2012 | by Alexis Argent
0
Tobit.Software Chooses Meru Wireless to Serve Event Attendees at its 2,000 Capacity Atrium
Meru Networks have  announced that German-based software developer Tobit.Software, AG, has deployed a high-performance Meru wireless network to support visitors to its Atrium, a 2,000-capacity, high-technology sporting event viewing center.
Meru has developed an innovative approach to wireless LANs that changes the way that enterprises view wireless networking. Their products include the AP150 Indoor WiFi Access Point and the AP301 Single radio Indoor WiFi Access Point.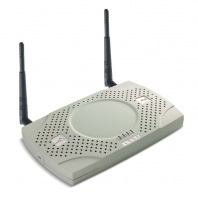 When Tobit.Software looked at their existing infrastructure, they realized they would not be able to support the large number of users the Atrium could hold. After evaluating wireless solutions from several vendors, the venue turned to Meru Networks. The company knew that Meru's Wi-Fi solutions would enable them to meet the increased demand from visitors to the venue.
"The solutions provided by Meru validate that we chose the right manufacturer to implement our WLAN project," said Heiko Lisseck, IT infrastructure manager for Tobit.Software. "Thanks to the excellent coverage provided by the company's virtual cell technology, we only need a small number of access points to support the venue. Meru's architecture also allows channels to be added as needed to ensure that we are suitably equipped for future major events with additional attendees."
The venue, which has a capacity of 2,000, features a giant 40m² LED screen and wireless access for all attendees. Meru's unique virtual cell and channel layering capabilities enabled Tobit.Software to increase capacity in the venue by simply adding a new channel layer. This eliminated the need for the installation of additional access points, and in doing so, reduced costs for the venue.
"Working with Tobit.Software we were able to address their density concerns and provide a solution that was easy to use and would effortlessly scale to meet its users demands," said Srinath Sarang, co-founder and general manager of hospitality for Meru. "In doing so we were also able to virtually future-proof their investment."