Business Wireless
Published on August 15th, 2012 | by Alexis Argent
0
The New REPEATIT Trinity 316TDD – small form factor, huge performance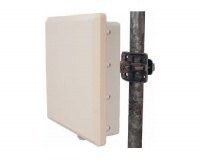 Repeatit unviel the new Trinity 316TDD, a first class Point to Point link capable of high capacity due to the innovative Time Division Duplex & MIMO technologies. In todays world space & performance is everything and with the size of the link only being 27cm x 27cm, the 316TDD opens itself up to exciting markets including CCTV backhaul, building to building links and more. The new Trinity 316TDD is perfect for medium distance deployements requiring a robust, high performance and simple link.
Product Highlights:
190 Mbps aggregated throughput 
18 dBi Dual Polarized 5 GHz antenna 
Supporting a variety of channel widths: 10, 20 and 40 MHz
 Build-in RF ESD/Surge protection up to 15 kV 
 Repeatit Cloud Network Management
Speed Test
 Advanced spectrum analyser 
QoS: Four traffic classes prioritise traffic
Repeatit's TDD & Mimo Technology:
Trinity-316 uses TDD technology to emulate full duplex links over a half duplex communication link. The radio link operates symmetric or asymmetric and optimizes the link for low latency. The proprietary TDDbased protocol greatly reduces the impact of long distances compared with other technologies. By using TDD based technology we enhance and strengthen the link against interference.