Wireless Networking News
Published on July 11th, 2013 | by Alexis Argent
0
The Ensign Group Selects Aruba Networks WLAN to Enable High Quality Care, Enriched Experience for Patients and Residents
Aruba Networks have announced that Ensign Services, which provides back office services to operating subsidiaries of The Ensign Group and other healthcare companies, has standardized on Aruba's Wi-Fi Solutions to offer an enhanced healthcare experience and ensure high quality care for its clients' patients and residents.  Ensign is using both Aruba's controller-based WLAN and popular Aruba Instant controller-less solutions to deliver reliable, high-performance wireless connectivity across more than 130 operating locations, including skilled nursing facilities, assisted living communities, hospice companies, home health businesses and urgent care clinics in eleven states.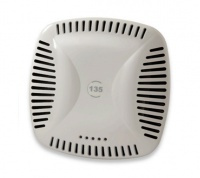 Ensign Services began evaluating wireless networking solutions to bolster patient care and internal operations for its client healthcare facilities, as well as deliver wireless access to its patients and healthcare residents. From the operational side, Ensign wanted to move to Electronic Medical Records (EMR) and enable the use of clinical applications software like Point Click Care. In addition, to improve the overall experience for its clients' residents and patients, the company wanted to offer wireless access to the Internet, email and other applications and services, as well as to gaming systems like Wii that are used for both recreational and rehabilitative purposes.
After evaluating solutions from Cisco, Aerohive and Aruba, Ensign selected Aruba, deploying a combination of controller-based and controller-less products. To date, Ensign has installed 100 Aruba mobility controllers and 800 Aruba 135 and 105 Series access points in its clients' skilled nursing facilities and 50 Aruba Instant access points in its homecare and urgent care businesses. According to Ryan Rushton, Director of IT for Ensign Services, Aruba's focus on wireless technology, its price-performance advantages and strong technical support staff were all key factors in the organization's selection of Aruba.
We appreciate Aruba's focus on wireless technology, the company's dedication to providing top-notch technical support and assistance and its excellent price/performance, as compared to the other vendors we reviewed," Rushton said. "Aruba sales engineers spent countless hours with us after our purchase, helping us correctly architect and configure our network, ensuring the most reliable and secure wireless deployment possible to meet our needs."
Ensign deployed two separate networks – one that delivers access for patients and guests and the other for internal use by employees. Rushton explained that Ensign uses Aruba controllers at each of the company's client skilled nursing facilities so that they can physically, rather than just virtually, separate the two networks.
Internally, the wireless network has dramatically improved productivity and patient service delivery for care staff. Said Rushton, "Our clients' therapists can now work with patients in a roaming fashion, throughout their facility, using therapy software to provide better, real-time care, and share results and historical information about the patient's recovery process with them, as they work together."
From the patient perspective, Rushton says the patient/guest wireless network has proved to be extremely popular and most of Ensign's clients advertise the availability of their guest Wi-Fi network. Forty percent of patients/residents are now using the network, with more than 5,500 unique devices logging on each day. "The overall experience of our clients' patients has been greatly enhanced," said Rushton. "With the Wi-Fi network, patients can stay connected with family and friends – who can also access the network when they visit – and they have access to gaming systems like Wii. The WLAN has become a critical part of everyday operations for employees and patients/residents, alike."
Ensign's initial pilot deployment covered one of its client skilled nursing facilities and its Service Center, but as the company recognized the power and potential of the network, they quickly rolled out wireless to 60 of its client facilities, and is continuing to deploy across its client base. The organization has made the Aruba WLAN a standard install for all clients, and since Ensign Services is in solid growth mode, it is acquiring new client facilities almost monthly.
Share this item with your friends or work colleagues.  If you want to stay up to date with our latest products, industry news and offers you can sign up to our monthly newsletters, keep up to date with us on Facebook or follow us on twitter @4Gon