Manufacturer News
Published on October 14th, 2013 | by Alexis Argent
0
Sierra Wireless enters agreement to acquire M2M embedded module and modem assets of AnyDATA Corporation
Sierra Wireless have announced an agreement with AnyDATA Corporation and its subsidiaries to acquire substantially all of the assets of AnyDATA's machine-to-machine (M2M) embedded module and modem business. 
Specialising mainly in 3G Routers, Sierra Wireless offer routers such as the GX400 and GX400 with Wi-Fi.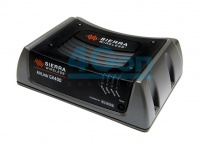 Upon completion of the acquisition, AnyDATA's M2M embedded module and modem portfolio will become part of the Sierra Wireless OEM Solutions product line, and a team of 16 sales and engineering staff from AnyDATA's Korean subsidiary will join Sierra Wireless. AnyDATA's M2M embedded module and modem products generated approximately $10 million U.S. in revenue during the last 12 months and the business is modestly profitable.
With significant market share and established sales channels in Korea, and a proven engineering team, we believe that the AnyDATA M2M business represents an important addition to Sierra Wireless," said Jason Cohenour, President and CEO of Sierra Wireless. "This acquisition broadens our global reach, enhances our technical capabilities, and expands our market share leadership. We are very pleased to welcome the AnyDATA customers and employees to Sierra Wireless."
Share this item with your friends or work colleagues.  If you want to stay up to date with our latest products, industry news and offers you can sign up to our monthly newsletters, keep up to date with us on Facebook or follow us on twitter @4Gon