Manufacturer News
Published on June 24th, 2013 | by Alexis Argent
0
Ruckus Wireless Named a Top Workplace in Silicon Valley for 2013
Ruckus Wireless has announced that it has been selected as one of the Bay Area News Group's (BANG) Top Workplaces for 2013 in their Midsize Companies list of 30 companies.
Ruckus was the only San Francisco Bay Area-based employer in the Telecommunications category to make it onto any of the three BANG Top Workplaces lists for 2013, which included Small, Midsize, and Large Companies categories.
Ruckus produce advanced wi-fi solutions for the mobile Internetworking market. The company markets and manufactures a wide range of indoor and outdoor "Smart Wi-Fi" products for mobile operators, broadband service providers and corporate enterprises around the world.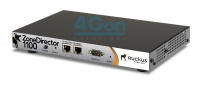 The Top Workplaces are determined based solely on employee feedback. The employee survey is conducted by WorkplaceDynamics, LLP, a leading research firm on organizational health and employee engagement. WorkplaceDynamics conducts regional Top Workplaces programs with 37 major publishing partners and recognizes a list of 150 National Top Workplaces. Over the past year, more than 5,000 organizations and 1 in every 88 employees in the U.S. have turned to WorkplaceDynamics to better understand what's on the minds of their employees.
Some of the comments WorkplaceDynamics received from Ruckus employees that helped Ruckus Wireless make the list included:
"I see growth in my job and like being part of an exciting team."
"It is interesting, challenging and rewarding."
"We have a great product and I like the people I work with."
"Exceptional executive staff."
This award is further proof that Ruckus continues to lead our industry as one of the best companies to work for in Silicon Valley," said Kathleen Swift, VP of Human Resources for Ruckus Wireless. "No doubt about it, we're 'simply better' as we continue to grow from our roots as a pioneer in the wireless infrastructure market, focusing on finding and retaining the best talent to enable carriers and enterprises to stay ahead of the exploding demand for Wi-Fi with our best-of-breed Smart Wi-Fi technology that redefines what's possible in wireless network performance. Our people are key to our leading technology and stellar customer support."
Share this item with your friends or work colleagues.  If you want to stay up to date with our latest products, industry news and offers you can sign up to our monthly newsletters, keep up to date with us on Facebook or follow us on twitter @4Gon