Wireless Networking News
Published on November 29th, 2012 | by Alexis Argent
0
Ruckus Takes Top Marks in Syracuse University's CCENT Testing of High-Speed, Three-Stream Wi-Fi Devices
Ruckus Wireless have announced that its new three-stream 802.11n ZoneFlex 7982 consistently outperformed competitive alternatives in the industry's first evaluation of high-speed three-stream enterprise Wi-Fi access points (APs).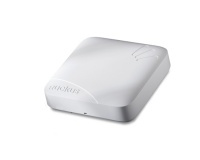 The competitive Wi-Fi testing, conducted by Syracuse University's School of Information Studies' Center for Convergence and Emerging Networking Technologies(CCENT), in cooperation with Ruckus Wireless, was developed to help enterprise managers better determine what type of real-world performance can be expected from leading Wi-Fi Solutions  suppliers including Aruba, Aerohive, Cisco, Meraki, and Ruckus Wireless. 
The comprehensive testing, performed by faculty and graduate students in Syracuse's School of Information Studies, is the first view into the real-world performance of emerging three-stream 802.11n enterprise Wi-Fi systems. New three-stream 802.11n access points use multiple Wi-Fi radio chains to simultaneously transmit different streams to receiving devices. Three-stream capable receiving devices are able to combine these streams to achieve higher data rates. Typically Wi-Fi vendors quote the theoretical maximum data rate of 450 Mbps for each radio.
According to Syracuse University, the Ruckus ZoneFlex 7982 consistently posted the highest aggregate transmission control protocol (TCP) throughput measurements, taking the top spot in 66 percent of all the tests performed.
Testing was conducted during a 7-month period from April to October 2012 and included a combination of 87 single- and multi-AP/client tests through 1,500 test runs. In single AP, single client tests, for instance, 135 runs were performed for each device under test (DUT). This included testing each device in 5 locations, on "3 bands" (2.4, 5GHz, concurrent), in 3 different orientations running traffic and three different traffic patterns (uplink/downlink/bi-directional). The winner of each test was determined based on the highest aggregate TCP throughput.
While Ruckus provided advice and guidance in the formulation of test plans, the actual testing was performed by a team of Syracuse students who have all completed advanced coursework addressing Wi-Fi and 802.11. A team of students was assigned to each product tested and configuration of these products was based on vendor-recommended best practices, wherever such guides were available. Configuration details about all products will be available on request from Syracuse University's CCENT.
While performance is only one factor in assessing the quality of enterprise Wi-Fi product offerings, it is an increasingly important factor as Wi-Fi enabled devices proliferate and Wi-Fi emerges as the default network access mode in many organizations," said Dave Molta, Associate Professor of Practice in the School of Information Studies at Syracuse University, who oversaw the student testing. "However, there is a general void in the market with respect to quantitative data that addresses the real-world throughput of 3-stream MIMO product offerings."
Molta continued, "We set out to systematically evaluate how the throughput of leading products maps to data rate claims made by vendors. While we spent hundreds of hours testing this gear, we are not trying to generalize these results to every environment. Still, we think these tests provide information about 3-stream MIMO performance that will be valuable to network managers."