Announcements
Published on March 7th, 2013 | by Alexis Argent
0
Ruckus Introduces the ZoneFlex 7055, the Industry's First Wi-Fi Wall Switch to Deliver Concurrent 2.4 and 5 GHz Wi-Fi with Wireless Meshing
Ruckus Wireless has announced the launch of its dual-band concurrent ZoneFlex 7055 Wi-Fi wall switch, the first of its kind in the world. The ZoneFlex 7055 Wi-Fi wall switch gives hotel and resort operators an elegant, low-cost and inconspicuous solution that leverages their existing wired infrastructure, while enabling the delivery of high-speed Wi-Fi to support an ever-expanding assortment of IP-based guest services over multiple virtual LANs (VLANs).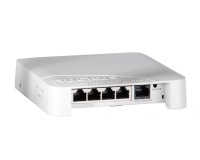 The only integrated solution in the industry to offer the simultaneous operation of 2.4 and 5 GHz 802.11n Wi-Fi along with wireless meshing, the  ZoneFlex 7055 Wi-Fi wall switch is an outdoor solution that uniquely combines wired and wireless connectivity within a universal low-profile form factor (13.6 cm square by 30 cm deep) that fits into any standard EU or US electrical junction box, among others.
Ruckus produce an extensive line of ZoneFlex products. This includes both indoor and outdoor solutions. The indoor range features models such as the 7363 and the 7343. The outdoor range features products such as the 2741 and the 7731.
Since introducing the first 802.11n Wi-Fi wall switch in 2009, Ruckus Wi-Fi wall switches have now been installed in over 100,000 hotel rooms in some of the world's most prestigious properties such as the Mandarin Oriental New York, the Atlantis Paradise Island Resort in the Bahamas, the Borgata Hotel Casino and Spa in Atlantic City, the Star City Casino in Sydney, the Ritz-Carlton Bahrain Hotel and Spa, and many more.
The ZoneFlex 7055 now lets us better support new smartphones and future 802.11ac devices that only operate within the channel-rich 5 Gigahertz band," said David Heckaman, VP of Information Technology for Mandarin Oriental in North America. "Like many hotels, the costs of running additional Ethernet cabling into every room to enable new services like IPTV while needing to provide a reliable Wi-Fi experience we're daunting. This new Ruckus Wi-Fi wall switch will effectively solve these problems for us."
One of the world's most prestigious hotels, the five-star Mandarin Oriental New York, situated in New York's Columbus Circle overlooking Central Park, is one of the first organizations to test the new ZoneFlex 7055 Wi-Fi wall switch and has been using ZoneFlex 7025 Wi-Fi wall switches in hundreds of its guest rooms.
Since installing Ruckus Wi-Fi wall switches, we've seen phenomenal improvements in performance and reliability," said Heckaman. "But the ultimate endorsement has been the resounding silence we've heard from our guests. Wi-Fi complaints are now the exception and not the rule." Mandarin Oriental New York is one of seven acclaimed Mandarin Oriental hotels that have now installed Ruckus Smart Wi-Fi, including their properties in Tokyo, Manila, Jakarta, Sanya (China), London, and Hong Kong.
Share this item with your friends or work colleagues.  If you want to stay up to date with our latest products, industry news and offers you can sign up to our monthly newsletters, keep up to date with us on Facebook or follow us on twitter @4Gon