Wireless Networking News
Published on February 11th, 2013 | by Alexis Argent
0
Redline Wins Prestigious International Award for Quality and Business Excellence
Redline Communications have announced that they have won the annual BSI Group Award of Excellence in recognition of  commitment to quality and business excellence in all aspects of their operation.
Redline Communications has an impressive track record. Their team achieved perfect audit performance in 2012, they demonstrated continual business improvement over the last three years and senior management continuously shows full support of the quality system, which makes a huge difference," said Gary Robinson, Commercial Director, BSI Canada. "This year's Award of Excellence nominees were an impressive group of leading companies, but Redline stood out among them as a company that continuously goes above and beyond, and for that we commend them."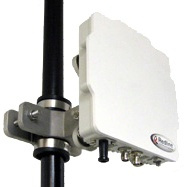 Redline Communications are a leading manufacturer of point to point wireless systems used to cost-effectively deploy distributed applications and services. Their products include the Redline RDL-2000, the Redline RDL-3000 and the Redline AN80i. 
The British Standards Institution (BSI) is the world's first national standards body and a founding member of the International Organization of Standardization (ISO). BSI established its annual Award of Excellence program in 2011 to recognize leading companies worldwide that excel in the implementation of international business standards.
Business excellence and a commitment to quality in everything we do are integral parts of the Redline culture and winning this prestigious award is a testament to our success and hard work," says Rob Williams, Redline Chief Operating Officer. "Our products have always been known for their outstanding reliability. It is something we are very proud of and our commitment to the ISO quality management system is part of what makes this possible year after year."
The BSI Group Award of Excellence is just the latest honor for Redline. Recently, the company's RAS Nomadic Platform won a coveted Fierce Innovation Award in recognition of it being the first wireless broadband backhaul networking system to automatically locate, steer toward and connect to a network base station.
The RAS is both a technical and commercial success as major oil and gas producers use the system to implement 'digital oilfields' to increase the speed and amount of production. Since shipping in late 2012, more than 300 RAS units have – or are in the process of being – deployed by oil and gas producers to provide rigs, vehicles and other equipment with automatic, continuous and reliable high-speed wireless connectivity even as they move from place to place across large distances.
Share this item with your friends or work colleagues.  If you want to stay up to date with our latest products, industry news and offers you can sign up to our monthly newsletters, keep up to date with us on Facebook or follow us on twitter @4Gon