3G/4G
Published on January 28th, 2013 | by Alexis Argent
0
Patton Will Present Wireless Bandwidth-on-Demand Internet Routers at Mobile World Congress
Patton will showcase their next generation wireless 4G routers in Barcelona between 25-28 February, the company have announced. At this year's global event for wireless carriers and MVNOs, Patton executives and product managers will present product lines that enable fixed-mobile convergence and cloud-based value-added services for business, institutions, transportation, and M2M applications.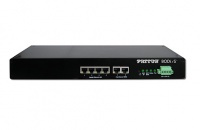 Pattom's BODi rS Bandwidth-on-Demand Internet Routers offer fast internet connectivity over bonded multi-link 3G, 4G, and VSAT. The product range consists of the Patton BODi rS BD004 and the Patton BODi rS BD007.
BODi combines WAN load balancing with VPN bonding to deliver MPLS-like speed and reliability. Supporting up to seven 3G/4G/LTE, WiFi/WiMAX or VSAT uplinks, the BODi product line offers cost-effective, on-demand bandwidth aggregation for fixed and mobile enterprises of all sizes.
With BODi, Patton brings a unique mobile broadband experience to market," said Brian Lawlor, product manager. "These powerful fixed-mobile routers combine up to seven wired and wireless broadband modems–plus a WiFi hotspot and WiFi WAN—all in a single unit."
Share this item with your friends or work colleagues.  If you want to stay up to date with our latest products, industry news and offers you can sign up to our monthly newsletters, keep up to date with us on Facebook or follow us on twitter @4Gon