3G/4G
Published on March 14th, 2013 | by Alexis Argent
0
Ofcom Reveal Average Residential UK Broadband Speeds Reached 12.0Mbit/s in November 2012
Ofcom have announced that their latest report into fixed-line residential broadband speeds shows that the average actual UK speed has risen by 3.1Mbit/s or 34% in the six months from May to November 2012, as the take-up of 'superfast' services increased. 
The report also shows that the average broadband speed has more than trebled in the last four years, from 3.6Mbit/s in November 2008 to its current level of 12.0Mbit/s (an increase of 234%).
Last year 4G was rolled out across the United Kingdom. With devices such as 4G routers offering mobile broadband speeds that have not been seen before, it is no surprise that fixed broadband speeds have increased also with technological improvements never far around the corner.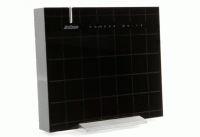 4G Routers offer users the chance to use the internet in any location that has sufficient coverage to the LTE network. Examples of 4G routers include the Netcomm Wireless 4G100W router and the Lancom 1781-4G router.  The predecessor of the 4G router was the 3G router. Operating on the third generation of mobile communication standards, 3G became well established and popular on mobile devices. Examples of 3G routers include the Teltonika RUT500, the Sierra Wireless AirLink Raven and the NetComm Wireless 3G22WV.
Consumers' continuing migration to higher-speed broadband packages is helping to drive the increase in actual UK average speeds.
By November 2012, more than three quarters (77%) of UK fixed-line residential broadband users were on packages with advertised speeds above 'up to' 10Mbit/s, up from 58% a year earlier.
The proportion of broadband connections classed as 'superfast' (those with an advertised speed of 'up to' 30Mbit/s or above) is also on the increase. By November 2012, 13% of residential broadband connections were superfast, more than doubling from 5% in November 2011.
 Our research shows that UK consumers are adopting faster broadband packages to cater for their increasing use of bandwidth-heavy services such as video streaming." said Ed Richards, Ofcom Chief Executive. "The increase in the average number of connected devices in UK homes is also driving the need for speed. Internet providers are working to meet consumer demand through network upgrades and the launch of superfast packages, giving consumers faster speeds and greater choice."
Share this item with your friends or work colleagues.  If you want to stay up to date with our latest products, industry news and offers you can sign up to our monthly newsletters, keep up to date with us on Facebook or follow us on twitter @4Gon