Business Wireless
Published on September 15th, 2011 | by Alexis Argent
0
Meraki selected for US's First Campus-Wide 3-stream 802.11n Network

Over 350 Meraki MR24 APs Provide High-Speed Wireless to 16,000 Students and Faculty
San Francisco – September 15, 2011 – Meraki, a Leader in Cloud Networking, today announced that Renton School District selected Meraki's MR24 cloud controlled wireless access points to provide enterprise-class WiFi to Renton's 16,000 students, faculty and staff. The Renton School District deployment covers 28 sites, including elementary, middle and high schools, the district office, facilities, and the football stadium. Renton is the first school district in the nation to adopt the latest generation of 802.11n WiFi, featuring 3-stream, 900 Mbps performance.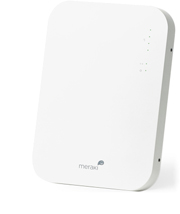 Meraki's high performance MR24 access points are centrally managed by the award-winning Meraki Enterprise Cloud Controller. "Meraki allows me to manage the network across the entire district, and I'm a team of one," said Todd Baker, Network Administrator for Renton School District. "The capabilities of Meraki's Cloud Controller are incredible. There's one dashboard for everything, from provisioning APs to troubleshooting client issues. The ease of use and powerful tools greatly reduce my site visits."
The Meraki MR24, an ultra high-performing 3-stream 802.11n access point, is ideal for dense classroom environments and high-bandwidth applications. Renton is rolling out 352 MR24s in a deployment totalling more than 415 Meraki access points. The campus-wide coverage supports Renton's Computer on Wheels (COW) program, which provides classrooms with "COW carts" to stream video, data and other media.
Renton leveraged Meraki's contract with the Washington Learning Source (WLS), which facilitates deployments for Washinton state school districts. Prior to selecting Meraki, Baker carefully evaluated a number of networking vendors. In a performance test of 2 finalists, the Meraki MR24 outperformed in WiFi range. Moreover, the ease of use and reliability of Meraki's cloud controller impressed Baker. "I've had a controller go bad on me in the past. With Meraki's cloud controller, I'll never have to deal with that again," Baker said.
Meraki MR24 Access Point
Radios
One 802.11b/g/n and one 802.11a/n radio
Dual concurrent operation in 2.4 and 5 GHz bands
Max throughput rate 900 Mbit/s
802.11n Capabilities
3 x 3 multiple input, multiple output (MIMO) with three spatial streams
Maximal ratio combining (MRC)
Beamforming
20 and 40 MHz channels
Packet aggregation
Cyclic shift diversity (CSD) support
Antenna
Integrated omni-directional antennas
Gain: 3 dBi @ 2.4 GHz, 5 dBi @ 5 GHz   
Security
Integrated policy firewall (Identity Policy Manager)
24×7 Wireless Intrusion Detection
Guest Isolation
WEP, WPA
WPA2-PSK
WPA2-Enterprise with 802.1x
TKIP and AES encryption
VLAN tagging (802.1q)
About Meraki
Meraki is a leader in Cloud Networking. 100% cloud-based from day one, Meraki's architecture delivers out-of-the-box security, scalability, and management to enterprise networks. Meraki has been deployed in over 18,000 customer networks worldwide, including British Telecom, Burger King, Starbucks, and M.I.T. Meraki was named a visionary in Gartner's Magic Quadrant for Wireless LAN, and won Techworld's Wireless and Mobility Product of the Year.