Product Reviews
Published on September 25th, 2014 | by Jack Eagle
1
How to set up a Ubiquiti Wireless and Security Network in your School for under £2,500
Introduction
The internet has revolutionised teaching by providing resources that were previously impossible to bring into the classroom. Students can benefit from a huge source of information, available instantly. The internet also enables previously mundane tasks to become more fun and interactive for students, and they can collaborate with each other on projects and other pieces of work.
Many primary schools are providing their students with iPads and other devices to enhance their learning experience. These devices give students a hands on experience with learning. With classrooms often having 30 children, the demand for stable and trouble free internet connectivity is high. 
The internet has also enabled security systems to be integrated into the network. With security being a must for schools, the ability to install and control IP cameras is a cost effective and convenient option.
Deploying a reliable WiFi infrastructure can be a difficult and expensive process for schools. Depending on the size of the deployment and the number of concurrent users required, there are numerous solutions from different manufacturers. Today we will look at one solution, using Ubiquiti Networks products.
Ubiquiti design and develop innovative wireless products for both indoor and outdoor use. Their portfolio includes products including access points such as UniFi, point-to-point links including the NanoStation, point-to-multipoint links like the Bullet M, IP cameras such as airVision and managed switches like the TOUGHSwitch. Ubiquiti products are renowned for being scalable, reliable and hugely cost effective.
Map of School
This map shows an example of a wireless setup in a primary school using Ubiquiti equipment.
Products
Product Name: Ubiquiti UniFi Pro

Why it is used?
The UAP-PRO is perfect for schools as it is a compromise between the  top of the range UAP-AC and the standard UAPs. The Pros are dual band, meaning that all client devices will be able to connect to the 2.4GHz band while newer devices will be able to run at a higher speed on 5GHz.
Why it is positioned where it is?
The optimum set-up allows for the UAPs to be balanced throughout the school, ensuring good coverage all round. The access points will lose some signal through walls, but this will not be a problem between rooms, assuming the walls are not made of steel. A UAP Pro allows for 200 concurrent users, which is more than sufficient for a primary school classroom, even with every student connected.
The UniFi controller software is browser based and enables different permissions for certain users, including staff and guest access. Administrators can also see who is online and prohibit which devices can connect. 
Product Name: Ubiquiti UniFi Video Camera (UVC)
Why it is used?
The UVC enables for 720p HD recording at 30 frames per second. Perfect for both indoor and outdoor use, the UVC has a built-in microphone, night-mode and can be mounted to a pole, a wall, or the ceiling. The UniFi cameras offer a cheap and effective layer of security. With multiple mounting options, the school will be able to deploy them in the most important positions.  
Why it is positioned where it is?
By positioning the UVC cameras near the entrances and exits of the building, the school can monitor activity into and out of the building. The cameras can be instructed to record when there is activity in a set part of the viewfinder. The UVC cameras feature night mode with an IR cut filter, meaning they can monitor any activity outside of school hours too. Email alerts can be set up to inform administrators if there is activity on a certain camera during certain hours. For example the system could alert you if there is activity on a camera late at night. 
Product Name: Ubiquiti UniFi Video Camera Dome (UVC-Dome)
Why it is used?
The UVC-Dome is can be mounted on the ceiling in corners or rooms and corridors. Designed for indoor use, the UVC-Dome can record HD video at 720p at 30 FPS.
Why it is positioned where it is?
The UVC-Dome is ideally suited to indoor areas where a fixed camera is needed. 
Product Name: Ubiquiti TOUGHSwitch 16 Port PoE Carrier
Why it is used?
The TOUGHSwitch is a rugged and cost-effective switch designed to power Ubiquiti devices. In this scenario, a TOUGHSwitch 16-port is being used to provide capability to power up to 16 devices. The size and number of switches required will depend on the scale of the deployment.
Why it is positioned where it is?
Ideally the TOUGHSwitch should be housed in a central location to save on cabling costs, and away from the reach of children and people who may tamper.
Product Name: Ubiquiti NVR
Why it is used?
To provide management of the Ubiquiti Video Cameras through the UniFi Video Software and to record the camera footage for playback. The NVR is plug and play and comes with a 500GB hard drive to store recorded footage. The capability to record HD footage from the surveillance cameras will be a huge asset to schools to both protect the property and watch back footage of specific incidents.
Why it is positioned where it is?
The NVR should be kept in the same location as the TOUGHSwitch, away from the reach of children and people who may tamper.
Product Name: Ubiquiti TOUGHCable Carrier
Why it is used?
Ubiquiti TOUGHCable is extremely durable and rarely fails. The shielded cable features an integrated ESD drain wire, anti crosstalk divider and secondary shielding.
Cost
The setup for this deployment is as follows:
Ubiquiti UniFi Pro x4
Ubiquiti UniFi Video Camera x6 or  Ubiquiti airCam x6
Ubiquiti UniFi Video Camera Dome x3
Ubiquiti TOUGHSwitch Carrier x1
Ubiquiti NVR x1
Ubiquiti TOUGHCable x1
To see the price and to purchase, see our pre built Ubiquiti Wireless School Kit here. 
You can also add Ubiquiti mFi Motion Sensors to the Ubiquiti Wireless School Kit to automate room lighting and other applications. When motion is detected in a room, the mFi Motion Sensor can automatically trigger a switch, for example a light, which can save money or can even be used in bathrooms for improved hygiene. The Wall Mount Motion Sensor (mFi-MSW) is a dual-technology motion sensor, using both passive infrared and microwave motion sensors to minimize the likelihood of false detections. It is wall-mountable and designed for security, occupancy detection, resource scheduling, and other smart building applications.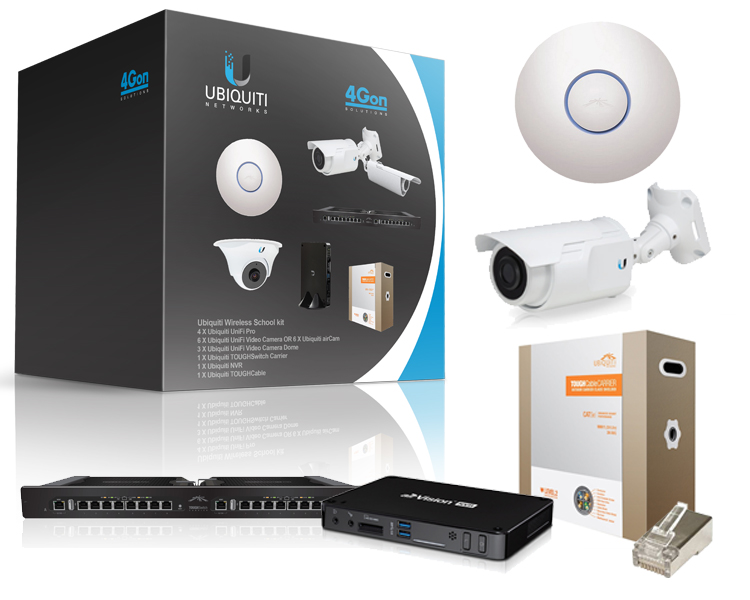 Alternative Solutions
Ubiquiti offer a huge range of wireless products and each school may have different requirements. A School may require a smaller or larger amount of cameras or APs depending on the size of the building. The UniFi access points will optimise your network performance and the camera's keeping your surveillance requirements in check.
Many other competitors to Ubiquiti can offer the same setup for schools (or any large deployment), but you would be pushed to find a solution which offers both an affordable price and reliable product. 
The overall cost of this deployment is far less than using equipment from other manufacturers.
Future Steps
In the future, the school could swap out UniFi Pros for UniFi ACs. The UAP-AC uses the latest ac Wi-Fi standard, which operates faster than that of b/g or n. With new devices gradually coming out on the latest standard, the UAP-AC will be able to offer faster speeds to users.
The school could also upgrade their UVC cameras to the UVC-Pro. The Pro offers Full HD 1080p recording and optical zoom, all in a tough exterior casing.
Share this story with your friends or work colleagues. If you want to stay up to date with our latest products, industry news and offers you can sign up to our monthly newsletters, keep up to date with us on Facebook or follow us on twitter @4Gon.