Announcements
Published on July 3rd, 2013 | by Alexis Argent
0
Extricom WLAN Wins "Product Innovation" Award for Large Public Venues at the Stadium Business Summit 2013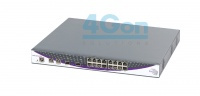 Extricom, manufacturer of products such as the EXSW-1600, EXRP-20 and EXRP-40 has announced their 1st place win of the "Product Innovation" award at the Stadium Business Summit 2013 held in Manchester, UK in June.
During the event, the Stadium Business Awards first place prize was given to Extricom for excellence in design, development and deployment of its WLAN architecture for large public venues (LPVs). Extricom's LPV solution using Channel Blanket technology was hailed for its high-quality reception, uninterrupted coverage and seamless roaming capabilities at the NBA 2013 All-Star Weekend at the Toyota Center, Houston, Texas. Extricom's successful WLAN deployment at this high profile sporting event would not have been possible without the support of its US partner, SignalShare.
Now in its fourth consecutive year, this leading industry event is host to an awards ceremony that pays homage to achievements from the global stadium industry. A vibrant and colorful event, the Summit is the largest global gathering of owners, operators and developers of the world's leading stadiums, arenas and major sport venues. The StadiumBusiness Awards recognize leadership, innovation and achievement in the delivery, operation and management of some of the world's leading sports facilities. 
Extricom was chosen from amongst hundreds of contenders, all of whom were nominated for one of the coveted awards and later shortlisted to a select few. The impressive roster of winners in other categories included Venue of the Year, awarded to the Mercedes Benz Superdome, New Orleans, and Guest Event of the Year, awarded to the Opening Ceremony of the 2012 Summer Olympic Games, London. Hosted in front of an international audience of sports and entertainment executives and coined the "Oscars" of the industry, Extricom's first-place win proved that WLAN is fast becoming a 'must-have' for LPVs that want to maintain their competitive edge and maximize profits.
Extricom's Channel Blanket technology, found in products like the EXSW-800G and EXSW-2400, was hailed the real "winner" of this esteemed award. When it was selected for deployment at the Toyota Center, the objectives were clear – unmatched quality and uninterrupted reception for the 3-day event. Channel blanket, as opposed to cell architecture, is optimal for LPVs as it eliminates co-channel interference between wireless LAN cells, so that valuable system bandwidth is deployed for user communications. 
We were proud to be part of this important event and winning first place for product innovation was a tremendous honor for Extricom and for our product," commented Gideon Rottem, Extricom CEO. "It was a great feeling to be amongst the leaders in our industry, especially since we are all devoted to delivering the best possible user experience. We were particularly proud to be amongst our peers – all winning service providers in some of the world's most spectacular venues."
Share this item with your friends or work colleagues.  If you want to stay up to date with our latest products, industry news and offers you can sign up to our monthly newsletters, keep up to date with us on Facebook or follow us on twitter @4Gon