Announcements
Published on November 8th, 2012 | by Alexis Argent
0
EnGenius Technologies Introduces X-Treme SMB Wireless Family with Launch of High-Performance Dual-Band Wireless Access Point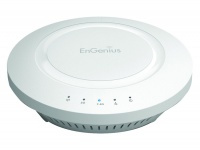 EnGenius Technologies, have announced the launch of the EnGenius EAP600 Indoor Access Point High-Power Dual-Band N Indoor AP/WDS, the first member of its new X-Treme family of high-performance business-class wireless networking solutions.
The EAP600 is designed for the needs of growing businesses that are experiencing network performance issues caused by the increasing use of bandwidth-intensive applications as well as the sheer growth in the number of client devices caused by either an increase in the numbers of users or by BYOD issues," explained Eric Chen, product manager at EnGenius. "Adding the EAP600 to an existing network not only increases the coverage area of the network, but adds the capability to create concurrent 2.4GHz and 5GHz networks which allows administrators to place higher-priority traffic on the 5GHz network to maximize performance."
Housed in an award-winning, low-profile smoke detector form factor, the easy-to-manage X-Treme EAP600 is a high-performance concurrent dual-band 2.4GHz + 5GHz Wireless-N access point that is ideal for either establishing a new wireless network or expanding the capabilities of an existing network. Fast wireless speeds and a Gigabit Ethernet port deliver increased bandwidth capacity to support additional users and bandwidth-intensive applications on the network such as video streaming and large file transfers on the network. High transmit power, enhanced receive sensitivity and internal Multiple In/Multiple Out (MIMO) antenna arrays enable the EAP600 to connect with client devices over extended distances and through multiple floors making them ideal solutions for large or multi-story buildings.
The versatile EAP600 can be configured to operate in several different modes including dual-band wireless-N access point, WDS access point or repeater. Using the included EnGenius Zone Controller Access Point Management Software, IT managers, installers and network administrators are provided with a robust suite of tools for deploying, managing and maintaining the EAP600 and other EnGenius wireless networking solutions.
Key features of the EAP600:
Concurrent dual-band 300+300Mbps support: 802.11n dual-radio concurrent operation in 2.4GHz and 5GHz for maximum wireless throughput;
High power and fast data speeds: Transmit power up to 29dBm provides more than twice the coverage of mainstream competitors and Gigabit Ethernet LAN provides high-speed connectivity to the network backbone;
Aesthetic design: Award-winning design makes EAP600 appear as a low-profile smoke detector that blends with other common building infrastructure appliances;
Simplified management: Includes EZ Controller SNMP-based wireless access point management software;
MSSID and VLAN support: Up to eight BSSIDs per radio with 802.1q VLAN tagging;
802.3af PoE compatible: Supports Power-over-Ethernet (IEEE 802.3af/at) allowing deployment in areas where power outlets are not available.
Four internal antennas: Four 5dBi internal antennas optimize and maximize RF performance.