Announcements
Published on June 6th, 2013 | by Alexis Argent
0
EnGenius ECB600 Dual-Band Wireless-N Indoor Access Point Delivers Expanded User Capacity, Greater Coverage and Class-Leading Price-to-Performance Ratio
EnGenius Technologies have announced the availability of the ECB600  Wireless-N Indoor Access Point/Client Bridge, the latest addition to the company's  family of  wireless networking solutions.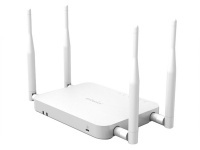 Ideal for deployment in large or multi-story buildings, or dense user environments such as hotels, hospitals, or office buildings, the ECB600 expands user capacity by providing concurrent wireless networks with throughput speeds up to 300Mbps in the 2.4 and 5 GHz frequency bands. Quality of Service ensures optimal performance of bandwidth-intensive or sensitive applications such as video streaming and VoIP. The ECB600 combines high output power, enhanced receive sensitivity, an internal MIMO antenna array, and four 5 dBi external omni-directional antennas to provide reliable coverage over larger areas and in complex environments, reducing total cost of ownership and maximizing return- on-investment.
EnGenius are well established in the wireless world and offer numerous indoor and outdoor solutions. 
While the ECB600 provides reliable, fast-speed coverage over large areas, it also incorporates features to protect the network and connected assets. Support for up to eight BSSIDs per radio and SSID-to- VLAN tagging enables IT administrators to create different levels of user access to protect network- connected resources. In addition to WPA/WPA2 Personal and Enterprise encryption, the ECB600 supports 802.1X RADIUS Authenticator to control network access at the client level.
Share this item with your friends or work colleagues.  If you want to stay up to date with our latest products, industry news and offers you can sign up to our monthly newsletters, keep up to date with us on Facebook or follow us on twitter @4Gon