Manufacturer News
Published on July 31st, 2014 | by Alexis Argent
0
Electric Cooperative in Philippines Rolls Out Branch-to-Branch Wireless Network Built with RADWIN
Extensive evaluation process ends; RADWIN selected & deployed
RADWIN , the global provider of sub-6 GHz broadband wireless solutions, today announced that the South Cotabato II Electric Cooperative (SOCOTECO II) in the Philippines deployed the RADWIN 2000 high-capacity point-to-point solutions to connect its office branches spread over a wide geographic area and over-water. Diagnostic Computer Center, a leading system integrator in the Philippines, was in charge of project installation.
Deoleto E. Presores, Head of IT, SOCTOTECO II: "We required a reliable, high-capacity wireless network and chose RADWIN after an extensive evaluation process. RADWIN 2000 PtP systems deliver high- speed, secure connections and support multiple applications for increased operational efficiency. The systems are rock solid, providing long-range and high throughput while operating in extreme outdoor conditions and tough terrains.
RADWIN 2000 systems are powerful and rugged, delivering high capacity of up to 250 Mbps with low latency. Extremely easy to set up, RADWIN 2000 systems incorporate the industry's smartest air- interface, MIMO and OFDM technologies and operate in challenging scenarios including non-line-of-sight and interference.
Maurice Illouz, RADWIN's GM APAC: "We provide a smart and cost-effective alternative to fiber for backhauling in areas where fiber is non-existent or cost prohibitive. With RADWIN's portfolio of
point-to-point and point-to-multipoint systems, energy companies such as the Cotabato Electric Cooperative can establish a reliable wireless network in virtually any location. Rugged and robust, our
systems consistently meet the exacting standards required by the energy sector.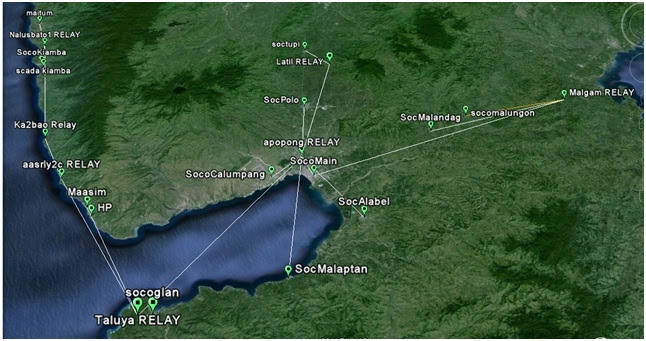 RADWIN-based network connects SOCOTECO's branches across wide area & over-water
For more about RADWIN 2000 high-capacity point-to-point visit RADWIN 2000