Announcements
Published on May 23rd, 2013 | by Alexis Argent
0
Digi Wireless Router Enables Real-Time Monitoring of Hibernating Bears
Digi has connected hundreds of thousands of remote devices throughout the world — smart meters, sensors, tanks, and fleets of vehicles just to name a few. The latest example is the use of Digi products to monitor bears.
Digi are well known for their TransPort series of 3G Routers.  These routers provide secure high speed wireless connectivity to remote sites and devices for primary or backup wireless broadband network connectivity. There are three main series of TransPort routers, being the WR41, the WR44 and the DR Cellular Routers.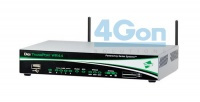 Digi have developed a remote monitoring solution for the Wildlife Research Institute that monitors bears in their dens during hibernation. One particular bear, Lily, hibernated deep in the Minnesota woods where there is no access to landline Internet service. To establish a camera uplink to Lily's remote den, the Wildlife Research Institute is using the Digi TransPort WR21 wireless router, which provides a high-speed Internet connection over Verizon Wireless' 4G LTE network. 
There are a number of 4G Routers available on today's market. These include the Netcomm Wireless 4G100W, the LANCOM 1781-4G Router and the 2N SpeedRoute. 
Share this item with your friends or work colleagues.  If you want to stay up to date with our latest products, industry news and offers you can sign up to our monthly newsletters, keep up to date with us on Facebook or follow us on twitter @4Gon