Manufacturer News
Published on November 12th, 2013 | by Alexis Argent
0
CradlePoint to Partner with PCI Security Standards Council to Improve Payment Data Security Worldwide
CradlePoint has joined the PCI Security Standards Council as a new Participating Organization. Working with the Council, CradlePoint will help to achieve and improve payment data security worldwide through the ongoing development of the PCI Security Standards, including the Payment Card Industry Data Security Standard (PCI DSS), PIN Transaction Security (PTS) requirements and the Payment Application Data Security Standard (PA-DSS).
Specialising in the 3G and 4G markets, CradlePoint offer solutions for small businesses and mobile customers. Their product range includes the IBR600 4G router, the IBR600 3G router, the IBR650 3G router and the MBR1400 4G rotuer.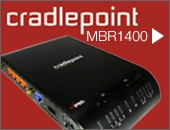 As a Participating Organization, CradlePoint adds its voice to the standards setting process and will receive previews of drafts of standards and supporting materials in order to provide feedback to shape their final versions, as well as engage a growing community of more than 650 organizations united to improve payment security.
CradlePoint will also have the opportunity to recommend new initiatives for consideration to the PCI Security Standards Council, participate in exclusive webinars and question and answer sessions with Council representatives, and review and discuss new versions of the PCI Security Standards while sharing cross-sector experiences and best practices at the annual Community Meetings.
In an era of increasingly sophisticated attacks on systems, adhering to the PCI DSS represents an entity's best protection against network security threats and data breaches," said Bob Russo, General Manager of the PCI Security Standards Council. "By joining as a Participating Organization, CradlePoint demonstrates they are playing an active part in mitigating the threats and improving the security of the payment chain globally by driving the security standards to higher levels of adoption and strength."
CradlePoint is dedicated to providing solutions that empower our customer's ability to make their transaction information safe and secure," said Kent Woodruff, Chief Security Officer at CradlePoint. "Joining the PCI Security Standards Council will allow us to add our expertise in network security to the many talented organizations dedicated to keeping payment data out of the wrong hands."
Share this item with your friends or work colleagues.  If you want to stay up to date with our latest products, industry news and offers you can sign up to our monthly newsletters, keep up to date with us on Facebook or follow us on twitter @4Gon