Networking Hardware
Published on August 4th, 2011 | by Alexis Argent
0
4ipnet announces the addition of two Gigabit Controllers into their Secure WLAN Controller product line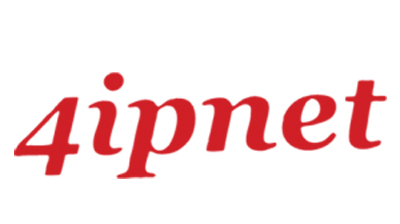 4ipnet, Inc., a leading wireless networking device provider for manageable, reliable, and secure wireless access, announced the new release of WHG315, Gigabit Secure WLAN Controller and WHG515, Gigabit Secure WLAN Controllers. Both controllers provide cloud base management over 4ipnet 802.11n Access Points with deployment flexibility by supporting both local and remote networks simultaneously in the Internet Cloud. This feature allows IT manager to control, configure, and upgrade all manageable 4ipnet Wireless Access Points deployed in different locations.
The WHG315 and WHG515 feature Encrypted Gigabit throughput capability. This ensures enterprises to securely and efficiently deliver high-speed wireless transmission, multimedia applications, and user roaming capability.
Another feature that comes with 4ipnet Secure WLAN Controllers is east firmware switching. By pressing a single button, users can switch between firmware if one malfunctions.
The 4ipnet WHG315 offers up to 4,000 Local Accounts and 4,000 On-Demand Accounts, while the WHG515 offers up to 10,000 Local Accounts and 10,00 On-Demand Accounts. 4ipnet WHG Secure WLAN Controller is a cost effective solution for venues looking to converge their wired and wireless networks into a single infrastructure. Along with IPv6 Ready protocol, WHG315 and WHG515 also supports: Network Access Control, AAA, Guest Access, Policy Management, Wireless Firewall, Rogue AP Detection & CAPWAP and etc…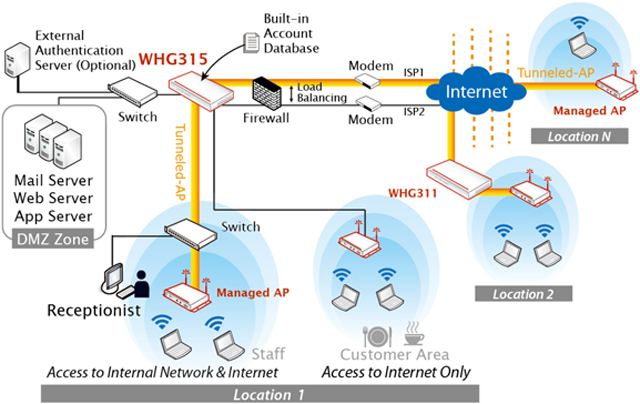 4ipnet WHG315  Secure WLAN Controller Technical Specifications
Networking
Support NAT or Router mode
Support Static IP, DHCP, PPPoE mode on WAN interfaces and PPTP (WAN 1 only)
Choose freely which LAN is authentication-enabled LAN
Support NAT:

IP/Port destination redirection
DMZ server mapping
Virtual server mapping
H.323 pass-through

Supports email service via designated email server
Built-in with DHCP Server and support DHCP relay
Support walled garden (free surfing zone)
Walled Garden Ad List that enables advertisement website links on user login portal page
Support MAC-address and IP-address pass-through
Support HTTP Proxy
Support IP Plug and Play (IP PnP)
Support configurable static routes
Support dual uplinks, outbound load balancing and failover for more reliable Internet connection
Support SIP pass-through NAT
Support Ethernet connection to external terminal servers
Port location mapping features for working with DSLAM and VLAN switches
Dynamic Routing Protocol: RIP, OSPF, IS-IS
Seamless L2/L3 roaming
System Administration
Support web-based management user interface
Provide customizable login and logout portal page
SSH remote management
Remote firmware upgrade
NTP time synchronization
Menu driven console management interface
Utilities to backup and restore the system configuration
built-in root CA feature to issue self-signed certificates for internal network security validation
Monitoring and Reporting
Status monitoring of on-line users
IP-based monitoring of network devices
Uplink (WAN) connection failure alert
Support Syslog for diagnosis and troubleshooting
User traffic history logging
Traffic history report via email to administrator
Users' session log can be sent to FTP or Syslog server
Graphical system report
For more information, please visit the product page: 4ipnet WHG315 Secure WLAN Controller
WHG515 – Secure WLAN Controller Technical Specifications
Networking
Support NAT or Router mode
Support Static IP, DHCP, PPPoE mode on WAN interfaces and PPTP (WAN 1 only)
Choose freely which LAN is authentication-enabled LAN
Support NAT:

IP/Port destination redirection
DMZ server mapping
Virtual server mapping
H.323 pass-through

Supports email service via designated email server
Built-in with DHCP Server and support DHCP relay
Support walled garden (free surfing zone)
Walled Garden Ad List that enables advertisement website links on user login portal page
Support MAC-address and IP-address pass-through
Support HTTP Proxy
Support IP Plug and Play (IP PnP)
Support configurable static routes
Support dual uplinks, outbound load balancing and failover for more reliable Internet connection
Support SIP pass-through NAT
Support Ethernet connection to external terminal servers
Port location mapping features for working with DSLAM and VLAN switches
Dynamic Routing Protocol: RIP, OSPF, IS-IS
Seamless L2/L3 roaming
User Management and Access Control
Support 10,000 local accounts and 10,000 on-demand accounts
Provide on-demand accounts for visitors
Support Local user account roaming
Authentication methods supported: Local and On-demand accounts, POP3, LDAP, RADIUS, Windows Domain, and SIP authentication
Single-Sign-On for Windows Domain
Allow MAC address and user identity binding for local user authentication
Support MAC Access Control List
Support auto-expired guest accounts
Users can be divided into user groups, each user group has its own network properties, including bandwidth, QoS, accessible service zones, and other privileges
Support QoS and WMM traffic types: Voice, Video, Best Effort and Background
Each group (role) may get different network policies in different service zones
Max concurrent user session (TCP/UDP) limit
A setting for user-idle-timeout
Configurable user Black List
Export/Import local users list to/from a text file
AP Management
Manage up to 250 x 4ipnet AP in both Local and Wide Areas AP management totally
Monitor 3rd party non-integrated AP: up to 250
Centralized remote management via HTTP/SNMP interface
Auto discovery for managed APs
Enable or disable APs easily via user interface
Templates for managed APs
Monitoring managed AP for its status, the number of associated clients, and RF information
Upgrade managed APs centrally, including bulk upgrade
Rogue AP detection and AP load balancing
Tunneled AP management over internet for 4ipnet EAP110, EAP200, EAP300 Aps
Graphical AP statistics display
For more information, please visit the product page: 4ipnet WHG515 Secure WLAN Controller