Networking Hardware
Published on October 16th, 2012 | by Alexis Argent
0
4G wireless LTE router the SpeedRoute from 2N
2N's 4G wireless LTE router 2N SpeedRoute onto the market, which supports the latest technology in the area of LTE/4G mobile networks and thus affords users a unique experience in terms of communication speed and the use of data-heavy multimedia applications!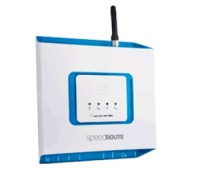 One of the main characteristics of LTE technology is the possibility of high-speed data transmission (up to 100Mbps). At such high speeds of data transmission, the ideal use for such technology is for the backup of fixed connections, such as ADSL technology for instance.  Such use  of 4G Routers is usually required for equipment and customers who need to be online 24/7, for example, bank terminals, payment terminals, CCTV cameras and many more, for which the 2N SpeedRoute LTE/4G Wireless Router is a great solution!
The main advantages of the 4G LTE router 2N® SpeedRoute include:
High-speed internet connection wherever you are
Secure backup of primary internet connection 24/7
Mobile Wi-Fi HotSpot via LTE
Simple installation
Intuitive control via web interface
Fallback to UMTS/GSM
Long Term Evolution (LTE) technology, which is also known as 4G and which is the successor to UMTS technology, is deployed by all leading telecommunication operators around the world. LTE represents the latest standard in mobile network technologies.
Thanks to LTE technology we can look forward to significantly higher data transmission speeds. Currently attainable speeds are around 100Mbps for download and 50Mbps for upload. In the future we can look forward to speeds of up to 300Mbps.